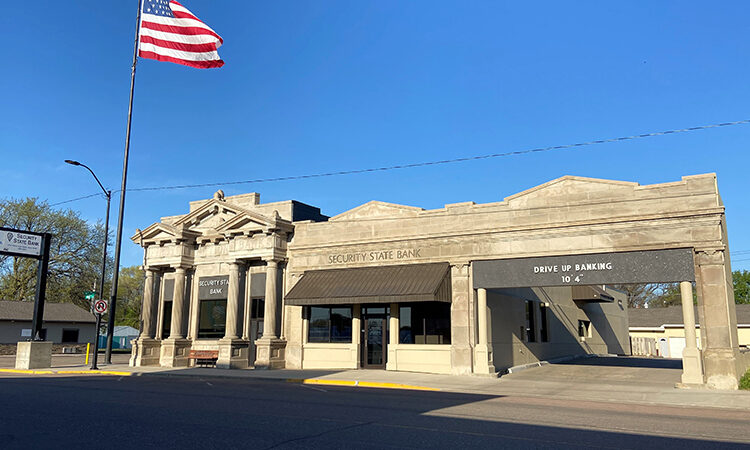 Tyndall, SD
1600 Main Street
Tyndall, SD 57066
Get Directions
p:
Lobby Hours

Monday to Friday

Drive-up Hours

Monday to Friday

External ATM

24/7
About Our Tyndall, SD Location
Security State Bank of Tyndall, SD was granted its charter on November 1, 1932. The original officers were W.Z. Sharp, President; (Sioux Falls); Anton Chastka, Vice President (Tyndall); and Byron R. Laird, Cashier (Tyndall). The original Board of Directors was the listed officers and included F.H. Hollister (Sioux Falls); F.M. Scoblic (Tyndall); and M.F. Schmitt (Tyndall). The original bank location was the former Security Bank building located north of the present location.
In 1934, Security State Bank moved to the current location when it purchased the former First National Bank building located at 1600 Main St in Tyndall, South Dakota. Security State Bank is a third generation, family-owned bank. Byron R. Laird helped start the bank in 1932. Byron R. Laird and his son Donald B. Laird purchased controlling interest in Security State Bank in 1949 with Byron R. Laird serving as President and Donald B. Laird as Vice President and Cashier. Byron R. Laird served as President until his passing in 1952. Donald B. Laird was acting President from 1952 to 1994. Donald B. Laird's son, Thomas S. Laird, began working at the bank in 1972 and has served as CEO from 1994 to present time.
Security State Bank has seen many changes over the years, with these changes the bank has grown and expanded. In 1965 and again in 1992 the bank underwent a remodel that has the bank currently at 5600 square feet. The most recent remodel in 1992 brought the opportunity to provide customers convenient services such as drive-up, mail drop and handicap accessibility.
Security State Bank was renamed as Security Bank in 2022.